Frequently Asked Questions
"Studies from other countries have shown that [overdose prevention services] reduce the number of overdose deaths, reduce transmission rates of infectious disease, and increase the number of individuals initiating treatment for substance use disorders without increasing drug trafficking or crime in the areas where the facilities are located."[1]

—American Medical Association
"We cannot just watch as our children, our parents, our brothers, and our sisters die of drug overdose … We have to use every proven tool we can to save their lives until they recover from the grip of addiction."[2]

—Dr. Thomas Farley, Philadelphia Health Commissioner
FREQUENTLY ASKED QUESTIONS:
  What are overdose prevention services?
Overdose prevention services are part of a broader harm-reduction strategy. Harm reduction in substance use treatment is aimed at decreasing the negative consequences of substance use, and it includes elements of safer use, managed use, and medication-supported treatment plans. Harm reduction is designed to address the circumstances of the addiction in addition to the addiction itself, striving to minimize the harmful effects of addiction while recognizing that drug addiction cannot be completely eliminated. Current leading scholarship establishes that a demonstrably effective approach to combating substance use disorder is to encourage treatment while providing harm reduction.[3]
Overdose prevention services are designed to reduce harms associated with drug use by carrying out the following activities:
Assessment of participant's physical and behavioral health status.
Provision of sterile consumption equipment.
Provision of drug testing, such as fentanyl test strips.
Medically supervised safe consumption and post-consumption observation.
Overdose reversal.
Wound care, other basic medical services, and referral for more complex medical care.
On-site education and counseling about substance use treatment.
On-site initiation of medication assisted treatment (MAT) and recovery counseling.
Access to a resource specialist for referrals to supporting services including housing opportunities, public benefits, and legal services.
Safe disposal of consumption equipment.
Distribution of naloxone and other opioid overdose antidotes approved by the U.S. Food and Drug Administration.
Why do we need overdose prevention services?
Philadelphia is experiencing an overdose crisis of unprecedented proportion. In 2015, the city's rate of 46.8 drug overdose deaths per 100,000 residents dramatically outpaced those of Chicago (11.8) and New York (13.7).[4], [5] In 2017, the 1,217 overdose deaths in Philadelphia [6] represented a 34 percent increase from 907 in 2016.[7] Since 2009, overdose deaths in the city have risen by nearly 200 percent.[8] Philadelphia has not had a public health crisis of this magnitude in more than 100 years.[9] Across all racial and ethnic groups, more people have died from drug overdose than from homicide.[10],[11]
This crisis led the Mayor's Task Force to Combat the Opioid Epidemic in Philadelphia to recommend that the city further explore implementing overdose prevention services and expand treatment access and capacity. Overdose prevention services have a long record of success in reducing harms of injecting heroin and other opioids.[12]
What are the benefits of overdose prevention services?
Overdose prevention services are part of a multifaceted public health approach to combating the opioid crisis. Extensive research has demonstrated the benefits of overdose prevention services for people who use drugs and the communities where drug use occurs.[13],[14],[15],[16]
Overdose prevention services:
Save lives by reducing the number of fatal drug overdoses through education on safer use practices, overdose prevention, and intervention.
Reduce the spread of infectious diseases such as HIV and hepatitis C among people who use drugs by providing sterile consumption supplies.
Connect people who use drugs with other health, treatment, and social services.
Create a safer community by reducing drug use in public spaces and publicly discarded paraphernalia.
What is Safehouse?
Safehouse is a privately funded Pennsylvania nonprofit corporation whose mission is to save lives by providing a range of overdose prevention services.
The leaders and organizers of Safehouse are motivated by the Judeo-Christian beliefs ingrained in us from our religious schooling, our devout families and our practices of worship. At the core of our faith is the principle that preservation of human life overrides any other considerations. 
Safehouse is working with community partners to find a suitable location(s) to deliver those services.
Safehouse's Board of Directors:
President and Treasurer
Jose A. Benitez, MSW
Executive Director, Prevention Point Philadelphia
Vice President and Secretary
Ronda B. Goldfein, Esq.
Executive Director, AIDS Law Project of Pennsylvania
Board member
Edward G. Rendell, Esq.
former Governor of Pennsylvania, former Mayor and District Attorney of Philadelphia
Safehouse will receive guidance from an Advisory Committee of community leaders and health experts, including:
Ana V. Diez Roux, M.D., Ph.D., M.P.H.
Dean, Drexel University Dornsife School of Public Health
Thomas Farley, M.D., M.P.H.
Commissioner, Department of Public Health, City of Philadelphia
Perry Halkitis, Ph.D.
Dean, School of Public Health, Rutgers University–New Brunswick
David T. Jones, M.S.
Commissioner, Department of Behavioral Health and Intellectual disAbility Services, City of Philadelphia
Larry R. Kaiser, M.D., FACS
President and CEO Temple University Health System
Sister Mary Scullion, R.S.M.
President and Executive Director, Project HOME
What can participants expect when they come to Safehouse?
All participants must register and provide basic demographic information upon entry to the Safehouse facilities. A physical and behavioral health assessment will be conducted and a range of overdose prevention services offered.
Participants seeking supervised consumption will be directed to the medically supervised consumption room and provided sterile consumption equipment and fentanyl test strips. Participants will safely dispose of used consumption equipment before leaving the supervised consumption area. Under no circumstances will Safehouse make available any narcotic or opioid, other than those that are FDA-approved for treating opioid addiction.
From the consumption area, participants will be directed to the medically supervised observation room and offered on-site initiation of Medication Assisted Treatment (MAT), wound care, and referrals to primary care, social services, and housing opportunities. Participants may choose to go directly to the observation room to access MAT and other services.
Medically trained professionals will provide overdose reversal and other emergency care. Safehouse personnel will be available to advise on sterile injection technique in order to reduce the risks of skin infections, but will not place needles or administer any narcotic or opioid, nor encourage the use of any drug.
Certified peer specialists, recovery specialists, social workers, and case managers will encourage treatment readiness and facilitate access to medical and social services. As participants leave, additional data will be collected, medical and social services will be offered again, and naloxone will be distributed.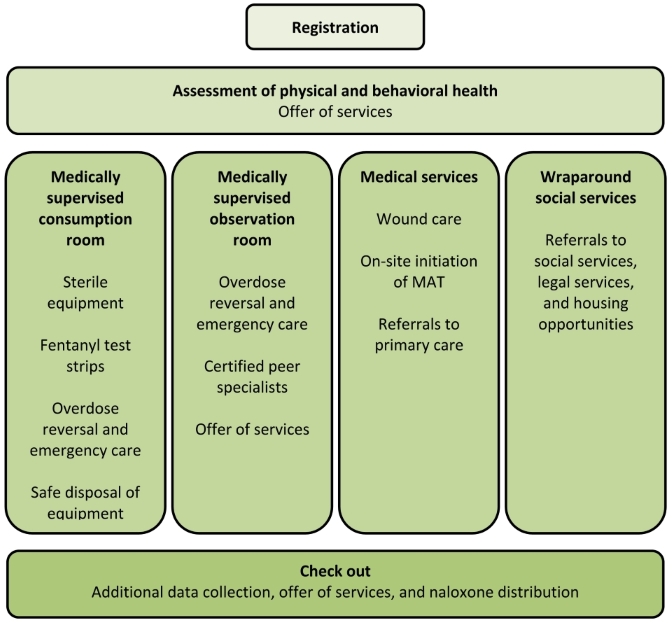 What will be the rules of conduct for Safehouse participants?
All participants will be expected to comply with rules to ensure the safety of participants, employees, volunteers, and the public. Safehouse will develop detailed policies and procedures, which it will post in a conspicuous place on location and on its website. Safehouse's rules of use include:
No one under age 18 may use the services. Appropriate referrals will be provided to minors.
No drug dealing.
No drug sharing.
No exchange of currency.
No sharing of consumption equipment.
No participant may help another consume drugs.
No staff person may help a participant consume drugs.
Staff will not handle controlled substances.
All participants must properly dispose of consumption equipment before leaving the premises.
Who will work at Safehouse?
Safehouse staff will include medically trained professionals, social workers, case managers, and certified peer specialists and/or recovery specialists. All staff will be trained in CPR and naloxone administration.
Do other jurisdictions offer supervised consumption rooms as part of overdose prevention services?
The first government-authorized supervised consumption room opened more than 30 years ago in Switzerland. Today, more than 120 supervised consumption sites are operating in Europe, Australia, and Canada. The availability of supervised consumption services is increasing as research confirms the effectiveness and the advantages to the broader community.
Does supervised consumption save lives?
Yes. No overdose deaths have been reported at any of the more than 120 supervised consumption sites worldwide.[17],[18] In Canada, the fatal overdose rate in the Downtown Eastside neighborhood of Vancouver, British Columbia, decreased by 35 percent after the city opened North America's first supervised consumption site.[19] Germany also experienced declines in overdose- and drug-related deaths in the years following the opening of a supervised consumption site.[20]
Do people who use supervised consumption sites seek treatment?
Yes. Following the opening of Insite, a supervised consumption site in Vancouver, the use of detoxification services in the area increased by 30 percent.[21] More than half (57 percent) of people in a cohort of more than 900 long-term injection drug users sought addiction treatment within 24 months of enrollment.[22]
Do supervised consumption sites encourage drug use?
No. Research shows that when managed in cooperation with local authorities and police, supervised consumption sites do not increase public disorder problems by attracting additional users and dealers to a neighborhood.[23],[24] No credible evidence suggests that supervised consumption sites encourage increased drug use or initiate new users.
Do supervised consumption sites increase neighborhood crime?
No. Considerable research on neighborhoods around safe consumption sites has shown no increase in crime.[25] In fact, a decrease in drug-related crime has been reported.[26],[27] Safehouse believes in a partnership with law enforcement and supports appropriate law enforcement measures to address public safety issues resulting from the opioid epidemic. Safehouse will actively discourage loitering.
What are the benefits to the community?
Overdose prevention services will reduce fatal opioid overdoses. As Safehouse will provide immediate reversal in the event of overdoses, the strain on emergency medical services and health systems will be decreased. By reducing ambulance rides, emergency room trips, and hospital visits, overdose prevention services are expected to save Philadelphia at least $2 million a year in health care costs. [28]
In addition, by providing a supervised place to consume drugs, fewer people will be using drugs on the streets. Less drug paraphernalia will be publicly discarded.
Does the law allow overdose prevention services like those provided by Safehouse?
We believe it does. Safehouse's overdose prevention services are designed to save lives, which is consistent with the intent of federal drug laws.
We believe that 21 U.S. Code § 856 ("Section 856") was never intended to apply, and does not apply, to a nonprofit providing a good faith, public health approach to overdose prevention services, including a supervised consumption room. The purpose of a supervised consumption room is to carry out legitimate medical and public health initiatives that offer scientifically proven interventions effective for encouraging treatment and rehabilitation of individuals addicted to opioids.
Section 856 prohibits maintaining any place "for the purpose of . . . using any controlled substance." The purpose of a supervised consumption room is to save lives by preventing fatal overdoses and encouraging participants to enter into treatment. It is intended solely as a place to address the public health crisis of opioid addiction by providing harm reduction and emergency response in the event of an overdose or other medical emergency, in addition to providing counseling about safer injection practices and referrals to other social and health services including referrals to addiction treatment, medical care, housing, and other related comprehensive social services.
The express statutory restrictions set forth under Section 856 are not clearly applicable to a supervised consumption room that will be utilized as part of Safehouse's holistic approach to saving lives and providing overdose prevention services.
Philadelphia has a history of creative public health initiatives and prosecutorial discretion. In 1992, then-Mayor Rendell and the Board of Health authorized by executive order Prevention Point Philadelphia's syringe exchange program to protect public health by preventing the transmission of HIV. Syringe exchange in Philadelphia has been
found to be an effective harm reduction method. Indeed, syringe exchange has reduced new HIV cases in injection drug users in Philadelphia by more than 95 percent, from 819 cases in 1992 when Prevention Point opened to just 27 cases in 2016.[29]
Effective syringe exchange programs also increase the number of injection drug users referred to and retained in substance use treatment. In addition, they increase referral and entry opportunities for social services such as housing, case management, and medical care.[30] Studies also have found that syringe exchange programs do not increase injection drug use.[31]
Will Safehouse seek a partnership with law enforcement?
Yes. Safehouse hopes to have a mutually beneficial, productive partnership with law enforcement, as we have a shared goal of making the community safer.
In Vancouver, police leaders strongly support overdose prevention services.[33] Bill Spearn, a longtime inspector with the Vancouver Police Department, formerly a staunch opponent of the sites, now admits that he was wrong. In May 2018, he said: "If you want to keep these people alive long enough to get them into treatment, you have to give them a space to use."
In reflecting on the benefit of Vancouver's overdose prevention services, Spearn said "it made sense to me that the reason that the number of overdoses that I was attending, or my members were attending, had dropped significantly, was because of Insite."[34]
Will data be collected at Safehouse?
Yes. Data will be collected on a range of information points, including: client demographics, needs assessments, utilization, and referrals for treatment. An evaluation of the impact of the services on overdose fatalities and use of drug treatment will be conducted. Data collection and analysis will be conducted in a manner that respects and preserves client privacy and confidentiality.
How can I financially support the efforts of Safehouse?
If you'd like to support Safehouse, please send donations to:
   Safehouse
   PO Box 36788
   Philadelphia, PA 19107
Or click here to donate via PayPal.
At this time, contributions to Safehouse are not tax-deductible for federal income tax purposes.
 REFERENCES: